Cristie Kerr: Among The Greats Of Her Day
Posted by:

mike May 1st, 2017
By Eloise Trainor
Former FUTURES TOUR founder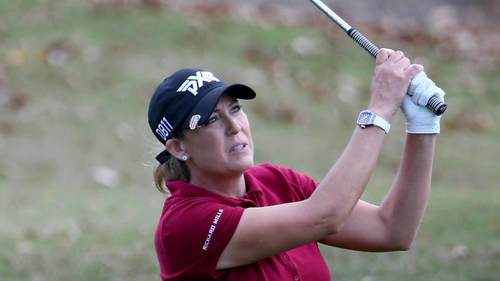 Has the longevity of Cristie Kerr's career gone unnoticed amidst the trials of Michelle Wie, the emergence of Lexi Thompson, Yani Tseng, Ariya Jutanugarn, Lydia Ko, Brooke Henderson and more?
I wrote this story after Kerr, 39, just came off winning the LOTTE Championship Presented by HERSHEY in Hawaii.
Then late last night, Kerr found herself in head-to-head battle and a six-hole playoff with Haru Nomura at the VOA Texas Shootout. It was stroke play turned match play at it's finest before Nomura eventually emerged with a birdie to Kerr's par on the sixth go around.
Two weeks before she placed 7th in the ANA Championship, the first LPGA major of the year.  
During her professional career, starting from 18 years of age, Kerr has accomplished many milestones:
3 top 10 finishes this year alone

167 career top 10 finishes

winnings of over 18 million dollars

19 LPGA tournament wins

2 major championships (2007 US Women's Open & 2010 LPGA Championship)
Kerr won that 2010 LPGA Championship by a record breaking 12 strokes too.  
Does this remind you of anyone else? Tiger? Or of her longevity and "go for it" mindset all the time, as in Phil?
Kerr's over two decades of play have put her right up there and against some of the great names of her day: Paula Creamer, Lorena Ochoa, Suzann Petterson, Lydia Ko, Annika Sorenstam, who she trailed second to in scoring average in 2005.  That year she also finished in the top 10 in half the tournaments she entered.
What makes Cristie Kerr the great player she continues to be to this day?  
First of all, she has played golf all her life, starting at a very young age and for more than three decades. I first met Cristie when she first played on the FUTURES Tour (now the Symetra).   
Note this though. She not only played in 1995, when she was just 18 and an amateur, but won the Ironwood FUTURES Classic by a margin of 3 strokes beating the entire field of professionals.
I quickly recognized the fact that she wanted to be and always knew she would be a career golfer. To reach these heights and her goals, a player has to be driven, directed, passionate, dedicated. Cristie is that and more.  
When I think about Cristie Kerr, I think about another great LPGA professional, Dottie Pepper.
Pepper won 19 LPGA professional wins. Here is the remarkable part. Each only played once on the FUTURES Tour as an amateur and won before going on to the LPGA.
Dottie's golf life and career have a number of other similarities: starting playing golf as a child, entering amateur competitions and winning in her teens, playing in a FUTURES tournament as an amateur, winning and beating the field of professionals.  Two of the greatest similarities though are Cristie's and Dottie's tenacity and drive. Their talent and determination was obvious then and continues.
On a personal note, and on the personal side of Cristie, she is now happily married and with a son named Mason. I also commend Cristie for her personal dedication to find a cure for breast cancer through the foundation she created called Birdies for Breast Cancer, in honor of her mother, who was diagnosed with breast cancer.
Cristie credits her mother as her inspiration. The foundation has raised over $750,000 and in 2006, she was awarded the LPGA Susan G. Komen Award.  For every birdie she makes, she donates $50 to the foundation along with her annual charity tournament.
Is this history indelible and are these traits tantamount to being LPGA superstars? It doesn't hurt. There are many ways to get there, but these personal and professional characteristics outline a strong path to super.
Start young. Compete young. Win young. Give back. And continually play with passion.
---
Eloise Trainor, founded of the FUTURES Golf Tour, in 1980 out of the need for women golfers to gain professional playing experience as an avenue to the LPGA Tour.  In 2000, the FUTURES Tour became the LPGA's official development tour, now known as the Symetra Tour.  Today Eloise, is the Co-owner and Director of Business Development for eduKaytion Golf and the Home of Golf 8.5, a premier golf instruction company.