Erin Hills: A Big Hitter's Paradise for 2017 US Open
Posted by:

mike June 15th, 2017
By Gary Van Sickle, @GaryVanSickle
GWA President & Golf Insiders Contributor
ERIN, Wis.—Erin Hills is still a big question mark, no matter what anyone says.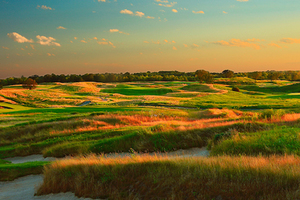 I don't doubt it as a bruiser of a championship layout. The question is, what kind of player will rise above to win this U.S. Open?
It looks more and more likely that a big-hitter is the likely champion.
For starters, Erin Hills will play at something around 7,700 yards, give or take a hundred or so depending on the tee placements. Since rain has already happened and a bunch more is expected, that's going to reduce roll and make that 7,700 feel like 7,700. The 2011 U.S.
Amateur at Erin Hills was played on firm, dry conditions and those young guns ate this place up with their wedges.
"It's a big-hitters paradise but it's a conundrum for the big-hitter who hits it high with a lot of spin," said Paul Azinger, a Fox Sports golf analyst and former PGA champion. "You've gotta spin it quite a bit because  a lot of the second shots are uphill. The rain took some of the sting out the greens. You have to hit it high and spin it to play well but this is a windswept property, so you really have something going on here that's unique."
Hitting it high with spin is not going to work if it does get windy, and Erin Hills is mostly wide open.
"It's a second-shot course," Azinger said. "There may be ten players who hit every fairway every day—it's possible. It's a spectacular second-shot course. I hope the wind blows 15-20 miles an hour and you'll see if high-ball hitter can manage his spin and hit decent shots into these semi-blind greens. Fourteen of the 18 holes have some blindness or semi-blind shots. I say it's only blind once but that's still unnerving."
The wind isn't quite as predictable as the weather, but it could be a big factor.
"Very few players didn't try to flight their balls differently in the wind," Azinger said. "Tom Watson, it didn't matter what the wind was doing, he hit the ball the same trajectory every time. Freddie Couples, Jack Nicklaus—you never saw them hitting knock-downs. At Erin Hills, players will benefit from power. Everybody always benefits from power."
The Erin Hills putting surfaces don't have the kind of severe undulations as other courses so there may be less drama on the greens than in your typical U.S. Open, which often turns into a lag-putting contest.
Brad Faxon, one of the tour's best putters during his PGA Tour career, is working as an analyst for Fox this week. He's not expecting the Masters to break out.
"You're not going to have a lot of putts here where you go, Oh my god, like at Augusta or Oakmont where you go, It'll be a miracle if I get this anywhere close," Faxon said. "Strokes gained putting or whatever putting stat you like, it'll be one of the better ones for U.S .Opens, especially compared to the last two years with the sloped greens at Oakmont and the bad conditions at Chambers Bay."
As of Wednesday afternoon, with another storm cell approaching, the greens at Erin Hills were not rolling as scary-fast normal U.S. Open speeds. Expected rains Wednesday night kept them from getting as fast as the USGA normally likes.
"This is going to help guys who are really long who might not have putting as a strength, like Dustin Johnson, Rory McIlroy, Adam Scott and Gary Woodland," Faxon said. "They're not going to lose strokes putting this week. It's really making me think that if you're Jim Furyk or Kevin Kisner, straight hitters who don't carry it 28 yards, I don't know if it matters how good you putt.  Being a long hitter this week is a big deal. That fescue rough is deep, but you're talking about fairways that are 50 and 60 yards wide."
I asked former European Ryder Cup captain Darren Clarke about his track record in the Open and he laughed.
"I always approached the U.S. Open with trepidation and I always booked my flight for Friday night to go home," he said with a mischievous smile. "The game required for the Open was always way beyond my patience abilities. The golf courses were brilliant. It was one of the few courses, you'd knew it'd be tight fairways, long rough, chop it out and try to make par that way, or you'd make birdie hitting it 20 feet left.
"I'd start off with that mindset. Then I'd be two over par after five so I'd start going after flags and then I'd quickly sign off for a 78 and go home. I never had the patience for the Open. That wasn't the course's fault, that was my fault."
Clarke is doing TV work for Fox Sports this week, and I bet he'll do well. He's glib, he's smart, he's funny and he's one of those personalities that everyone wants to hang out with.
He made two notable observations. One is about chipping around the greens.
"Mike Davis of the USGA is trying to give guys options around the green. He wants to give guys the option to hit bump-and-run chips," Clarke said. "The grass around the fringes is not cut straight back into you, ala Augusta, so the guys can putt it, bump it, 3-wood it, flop it or pitch it. The runoff areas are very penal and these bunkers, they're as penal as any in the world."
That's pretty good homework from the rookie broadcaster.
Also, Clarke said, the potentially softer greens will enable the players to stop shots quicker but the high-ball hitters with spin may find themselves zipping shots right back off the suddenly soft greens.
"If you've got greens rolling at 13.5 on the stimpmeter, and you have a little spin on the ball, you've really got to know what you're doing," Clarke said. "You'll see guys trying to take some spin off the ball, and that presents its own set of problems."
So if these guys are right, this Open champion is going to be a basher, not a finesse guy.
Take your pick. I've got a funny feeling about Jon Rahm, the Spanish rookie who is going to be a superstar. But since Erin Hills is making its debut in major championship golf, what happens over the next four days (or more!) is still a question mark right now.
---
Gary Van Sickle is a contributor for Golf Insiders and The Morning Read. He has written about golf since 1980, the last 20 years for Sports Illustrated, and for Golf World magazine and The Milwaukee Journal before that.
He played in two U.S. Senior Amateur championships, was once paired with Larry Mize and Tom Purtzer in U.S. Open sectional qualifying, has made seven holes-in-one and is not going to give you strokes. He lives in Pittsburgh.