FedEx Cup Playoffs: A History Of Top Tier Champions
Posted by:

mike August 24th, 2017
By Jeff Shain, Golf Insiders contributor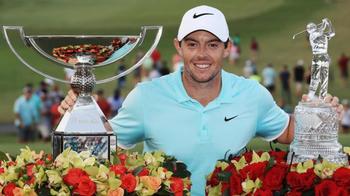 How often have we heard that the quality of a golf course can be determined by the champions it produces?
Royal Birkdale, for instance, has produced a half-dozen winners now in the World Golf Hall of Fame (and two who will get there eventually). Over more than two decades, all but three winners at Firestone Country Club also have a major title in their portfolios.
Quality up and down the lineup.
Along those lines, then, is that also a fair way to judge a playoff system?
The FedExCup playoffs enter their second decade this week when The Northern Trust tees off at Glen Oaks Club on Long Island. After some early bumps – remember when Vijay Singh could have just had the trophy FedEx'd to him without playing the final two events? – the PGA Tour has settled into a system that keeps the suspense right through Sunday's back nine at East Lake.
As for its champions? Tiger Woods has won it twice. The aforementioned Singh. Jim Furyk. Henrik Stenson. Jordan Spieth. Rory McIlroy. 
That's seven FedExCup champions (counting Woods twice) who also have a major title to their names.
Of course, you didn't need a playoff system to determine that Woods was the top player most years. Ditto for Singh during the apex of his career. Spieth and McIlroy both triumphed in years in which they were No.1 or No.2 in the world. 
And then there are the outliers – Bill Haas, Brandt Snedeker, Billy Horschel. Haas and Snedeker have been steady performers over the years, so their victories didn't raise much of an eyebrow.
The real upset was Horschel, a streak player who began the 2014 postseason at No.69 in the points race and missed the cut in the playoffs opener. After that, he nearly won in Boston, swept the BMW Championship and Tour Championship and punctuated everything with a Gator Chomp in front of a Georgia crowd. 
Then again, the Florida Marlins captured two World Series titles without ever winning the National League East. The Nashville Predators reached this year's Stanley Cup Finals as the No.8 seed in the West. It's part of the playoff allure, so long as Cinderella doesn't make it a habit.
Horschel aside, perhaps the best testament to the FedExCup's stature comes from those flanking him on the champions roll. 
After top-5 finishes in 2013 at The Players Championship, Open Championship and PGA Championship, Stenson set a target to become the first man to sweep both the FedExCup and the European Tour's Race to Dubai crown. He did, winning the finale in each.
Spieth already had captured two majors and held the No.1 world ranking when the 2015 playoffs began. But Jason Day came in even hotter, buoyed by his first major crown to win The Barclays and BMW Championship titles while Spieth missed the first two playoff cuts. 
Spieth redoubled his resolve, winning the Tour Championship by four to capture the season spoils. "What this means for me this week," he said afterward, "is it's validation to the year. 
The sentiment was nearly the same from McIlroy a year ago, though it had been something of a down year with two missed cuts in majors and just one victory worldwide.
But the young Ulsterman found his rhythm with a victory in Boston, then outdueled Ryan Moore down the stretch at East Lake to capture the cup.
"I've made it no secret that it's one of the last things I feel like I had left on my golfing (portfolio)," McIlroy said then. "I made it a big goal of mine, especially after the summer had gone, to win it. … To play the way I have in the last few weeks to get it done is very special."
With endorsements like those, the playoffs must be doing something right.
When you think about it, too, Spieth and McIlroy have known nothing but a playoff system since they turned professional. Same for perhaps two-thirds of the current PGA Tour membership. Stick around long enough, you become part of the framework. 
And so begins Decade 2. Spieth is right in the mix again, sitting third on the points list behind leader Hideki Matsuyama and new PGA Championship king Justin Thomas. Dustin Johnson is No.1 in the world rankings but fourth in points. 
They all sat out the Wyndham Championship, though we were treated to the usual drama around the No.125 mark in season points. Four moved into playoff berths – including Martin Flores, whose effort was boosted by a Sunday hole-in-one.
Four moved out, including Zac Blair, who missed the Saturday cut and could only watch from his hotel as J.J. Henry birdied two of his final three holes – striping his approach at No.18 to five feet – to pip Blair for the final spot by 1.13 points.
Those scenarios will play out three more times, as the postseason field is whittled to 100, then 70 and the final 30. With points quadrupled, too, winners almost certainly are guaranteed a top-5 seed heading to East Lake – which means they'd need no outside help capturing the FedExCup if they win the finale.
 On the tee, gents. Play away.