It May Be Rickie Fowler's Time
Posted by:

mike June 16th, 2017
By Steve Trivett, Golf Insiders Contributor
"To everything there is a season, and a time to every purpose under the heaven."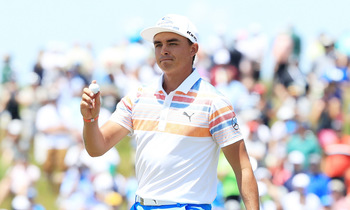 Preacher, the son of David the King, first penned the words in Ecclesiastes 3:1 centuries before B.C. became a measurement of time. 
Pete Seeger, singer and philosopher, set those same words to music in the 1950s.
The Byrds, a musical group that also had a spot in the country's social conscience, then took them to the top of the Billboard charts in the 1960s. 
And now Rickie Fowler is trying to make them come true once again in the 117th U.S. Open at Erin Hills.
For in the world of professional golf, this indeed maybe the time, the season and the purpose for the 28-year-old Fowler.
In fact, it may be past time.
Fowler arrived on the professional scene in 2009, playing in a Web.com event and before he made his debut as a member of the PGA Tour, the next season he already had several big-time endorsement contracts in his back pocket – mostly because of his personality and promise. 
The personality has done nothing but grown. The promise has been a lot slower coming.
He did have that marvelous season in 2014 when he finished in the top three of all four major championships, but a career-defining title eluded him.
He did win the Players Championship – ironically just a month after a national golf magazine released a poll of his peers that called him the biggest under-achiever on tour – a fact that added even more to his reputation as a good player but not a great player.
And while he arrived this week at Erin Hills on the "round-up the usual suspects" list of favorites, there always seems to be a "but" connected with his name.
Not in Thursday's first round.
Over an Erin Hills course that played more like just another weekly tournament on the PGA Tour – where the winning score come Sunday is going to be close to 20-under - than a U.S. Open, Fowler led a charge of players into red figures - as a damp golf course, no wind during the morning wave and length that doesn't matter under the onslaught of the current crop of players rolled over and played as easy as possible.
And no one did it better than Fowler.
When he walked off his final green Thursday, he signed for an amazing 7-under-par 65, matching the lowest first round in relation to par in U.S. Open history, matching the 63s shot by Jack Nicklaus and Tom Weiskopf at Baltusrol in 1980.
And if that isn't enough, Fowler beat playing competitors Hideki Matsuyama by seven and Jon Rahm, the young Spanish superstar, by 11.
No, the golf tournament isn't over. In fact, it was already starting to play tougher in Thursday's afternoon wave – and it's only going to get harder over the next three days.
But Fowler has put himself into the driver's seat.
And that begs the question that to an extent has plagued Fowler his entire career.
Can he take what he did on Thursday and make it stick until Sunday afternoon?
If that answer turns out to be yes, then one thing is for certain.
It will indeed be his time – but only because he made it so.
---
Tweets us your thoughts on this article! @TheGolfInsiders