The PLAYERS: Day 1 Wrap Up
Posted by:

mike May 12th, 2017
By Garrett Johnston, Golf Insiders Contributor
On a sweltering hot Thursday afternoon in northeast Florida the PGA Tour's flagship tournament, THE PLAYERS Championship, got started in high gear.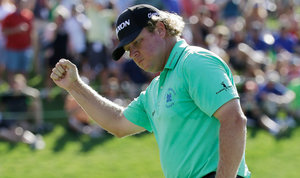 Leading the charge in the morning wave was the unassuming William McGirt who posted a 67 in calm conditions Thursday morning. The North Carolina native was quickly caught by 2004 PLAYERS champion Adam Scott in the afternoon. Scott vaulted the lead up to 6-under through 16 and seemingly had all the momentum on his side with two to play. But the hole that makes people remember this tournament bit the former champion, and he dunked his tee shot into the water on the iconic 17th island par 3.
The irony here is playing partner Sergio Garcia hit an unlikely hole-in-one there just moments before that electrified the late afternoon crowd. That's golf, right?
Garcia's ace was a sight to behold. It took three hops and spun back into the cup to the raucous crowd's amazement. As it disappeared into the cup, Garcia's fiancee Angela Akins covered her mouth with both hands in disbelief. She then high fived a few nearby fans and minutes later, excitedly high-fived her husband-to-be.
A hole in one, from arguably one of golf's biggest stars and a former PLAYERS champ?
Yes, this story was too good for a hot Thursday at TPC Sawgrass, but we'll take it.
"It was nice to see it bounce and kind of spin back into the hole," Garcia said afterward. "Maybe because I needed it after the start I had. It kind of made quite a poor round into, not a great round, but a decent round. If I have a good day tomorrow, I'll still be in good shape."
At the moment he stands at 1-over 73, six back of McGirt and Hughes.
Co-leaders William McGirt and Mackenzie Hughes stand at 5-under heading into tomorrow. Both own one PGA Tour title on their respective resumes.
Last year's champion Jason Day shot a 2-under 70 after getting to 5-under in the morning and will tee off tomorrow at 1:41 pm from the first hole.

Lord knows what kind of fireworks are in store after round 1.