Sergio Garcia's Honesty & Authenticity Misunderstood Through The Years
Posted by:

mike May 14th, 2017
By Holly Geoghegan, Host: Golf Insiders
I've been a Sergio Garcia fan since he burst onto America's golf stage during the 1999 PGA Championship at Medinah Country Club.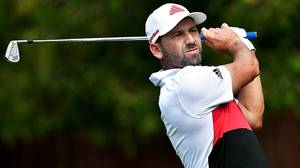 I was standing directly behind Sergio when he hit that iconic 6-iron, eyes closed, around that ginormous red oak tree on the right edge of the 16th fairway on Sunday during the final round.  The 19-year old exuberantly leaped into the air then scampered up the fairway as he chased his shot all the way to the green.  Sergio was chasing something else – his first major championship and a formidable opponent, Tiger Woods.  It was a memorable duel now etched in golf history.  Sergio lost by one stroke while Tiger claimed his first PGA Championship and second major.
"El Nino" as he was known in his youth, may have lost the tournament but he captured many golfers' hearts.  Golf fans had high hopes back then of a great rivalry developing between Sergio and Tiger – something we yearn for in every sport. There was something very endearing and infectious about this young Spaniard's enthusiasm and passion for the game.  
Who knew it would be 18 long years of heartbreaks and close calls before Sergio would finally win his first major championship in another exciting, down-to-the-wire match-up, outlasting good friend Justin Rose, to win the 2017 Masters?
On the eve of the Players Championship, Sergio sat down in the interview room with his mega-watt Chesire Cat smile beaming as bright as ever having spent a couple of weeks in Switzerland relaxing with his fiance, Angela.  He certainly seemed like one happy and contented cat just one month after capturing his first green jacket.
For suffering Sergio fans like myself, the journey has been a long one for both the player and his devotees.  On this day, however, I sat back listening and watching Sergio – now Masters Champion - with fresh and joyful eyes.  My take-away: admiration and appreciation for one of the top players in our game, not only as a role model and an incredible athlete, but a genuinely, nice guy.  
Sergio has always been refreshingly honest and worn his heart and his emotions on his Spaniard sleeves.  We've seen it - the good, the bad, and the ugly.  And while we, the media often bristled and were stonewalled during the Tiger Wood's era by a glare, one word answer, or padded statement, in contrast, Sergio let us in, no matter what, warts and all.  Sergio shouldered and endured the criticisms and commentary that went along with that, while continuing to work hard and improve his game, taking the golf world along for the ride.
As Booker T. Washington said, "Character, not circumstances, makes the man." Words we should all remember to live by and junior golfers should especially take note as they climb the ladder in this tough, pressure-packed, competitive sport.
Here are a few glimpses into the cornerstones of Sergio's now "older and wiser" character as shared during his presser at THE PLAYERS:
1. Respect.  When asked why he thought his win was so popular especially amongst his fellow tour players Sergio replied, " I think because they respect me.  They see that I haven't changed in 20 years that I've been here on Tour.  That's the way my parents made me and brought me up.  I always try to be respectful to everyone around me, and probably they were happy to see that a genuine guy like me was able to get one of his dreams – make his dreams come true."
2.  Acceptance.  Sergio has alluded to this being the key difference in winning his first major at Augusta.  "I've been saying it - I said it all week there and after. You know when good things happen, accept them the way they are.  When bad things happen, accept them and move on.  I think at the end of the day that's one of the most important things. Game-wise we all have it, and it's just a matter of being able to deal with things that happen to you on the course."
3.  Perseverance and Confidence.  On becoming a better player and keep improving on things, Sergio commented,  "It's massive, both words… They're huge when it comes down not only to golf, but anything you do in life.  I think at the end of the day, I said it throughout my whole career - the only thing I could do was keep putting myself in that situation and wait for the right time to get it done. It's as simple as that."
4.  Friendship and Sportsmanship.  Sergio's epic battle against good friend Justin Rose during the final round of the 2017 Masters was a true testament to our game.
"I've always had a great relationship with him," said Sergio. "It was nice to be able to play with him on Sunday because I think we both felt very comfortable.  Because of that, we were both able to play very, very good golf.  Unfortunately, one of us had to lose, but I think that the show and the fight that we put on that Sunday was fun to watch."   
In true Sergio style, he also forthrightly addressed a question about fellow Ryder Cup teammate Padraig Herrington's not-so-nice comments after the Masters and their subsequent "make-up" moment at Rory McIlroy's recent wedding.  
"We're fine," said Sergio.  "You know there's nothing wrong with us.  At the end of the day, I think that's the most important thing.  You know, he's a nice guy.  I think, I'm a nice guy, and we can all get along fine."
Yes, you are Sergio.  May the Golf Gods bestow more aces and majors in your future… and quite possibly another Players Championship.