Thompson Comeback Sparked By Inkster's Pep Talk
Posted by:

mike August 21st, 2017
By Jeff Shain, Golf Insiders Contributor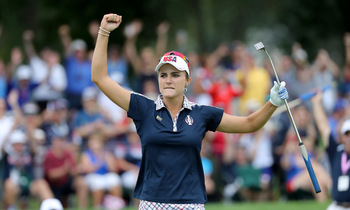 The right word, delivered at the right moment, can make all the difference.
Such was the case when U.S. Solheim Cup captain Juli Inkster put her hand on Lexi Thompson's shoulder four holes into Sunday's leadoff singles match.
"Really?!?"
Understand, now, that word on its own carries all sorts of potential for misunderstanding. Even seeing it here in print does no justice. It's all in the delivery. 
From your boss, it means one thing. From your teenage daughter, something completely different. If you've gone above and beyond on your wedding anniversary, it's sweet to the ears. Not so much if it's the guy handing back your driver's license and registration.
In this case, Inkster's delivery came with a lighter touch. And Thompson, 4-down through four, quickly grasped the meaning. 
This isn't you.
And that set the tone for Inkster's pep talk: You're our best player. You've still got 14 holes. Keep your head up. Keep your emotions in check. Take a few deep breaths. You've got this. Sealed, of course, with a hug.
We all know by now what transpired – a back-nine flip of the tables against European ace Anna Nordqvist, from 4-down at the turn to a halve that was as good as a win. The only thing that could have made it better is if Thompson's birdie putt at No.17 had gone in for outright victory.
 "When she started coming back," Inkster said afterward, "we started coming back."
 It ended in a second straight triumph for Inkster and Team USA, by a score of 16 ½ to 11 ½. And while Thompson's comeback will be the central storyline, it also serves as a microcosm of Inkster's legacy as captain.
 She got her players to believe in themselves and each other. And they responded – first with a historic Sunday comeback two years ago in Germany, then this weekend's tour de force in Iowa.
 "That's what Juli has brought out in all of us," Stacy Lewis said. "She never doubted us. She hasn't doubted us in four years. And I just think that confidence, it rubs off on us."
 Evidence was abundant over three days at Des Moines Golf & Country Club. Thompson and Cristie Kerr salvaged a halve in their opening foursomes match after being 2-down with two to play. Then came a sweep of Friday afternoon's four-balls, a first in U.S. annals.
 Kerr and Danielle Kang started walking in putts from everywhere. Brittany Lincicome began her Saturday four-balls with six consecutive birdies – then didn't even try for a seventh when partner Brittany Lang holed out for eagle.
 (Surely, some headline writer somewhere had to have come up with "Two Brits pace the Yanks.")
 And if anyone was going through a rough patch, there was Inkster with a verbal pick-me-up.
 "She'll just pop up out of nowhere and be like, 'You got this,' " said 18-year-old rookie Angel Yin. "It pumped me up. It was a good week."
 Said Lewis: "It was a different feel in the air. Everybody, we were calm. We knew what to expect. We knew what we were going to do. We knew we were going to go play great golf, and there was never a doubt."
 Indeed, the European side was left shaking their heads on many an occasion. For the solid – and sometimes outstanding – golf they played, they simply found themselves up against a red, white and blue buzzsaw.
 "We just got outplayed. There is no doubt about it," captain Annika Sorenstam said. "(My girls) were fighting for every single match and every single point. Congratulations to the USA because they played some awesome golf."
 Credit Inkster with changing the culture in picking up the pieces of the 2013 Solheim Cup, when the Americans were thumped 18-10 in Colorado. It was the first time a U.S. squad had been beaten on home soil, and it wasn't pretty.
 Inkster wasn't part of that shambles, but had already sensed from her previous stints as a player that things weren't heading in the right direction.
 "I just felt the last couple of times, I wasn't having any fun. It was a chore," she said. "I just felt like everybody was going in different directions and even though we were a team, were we a team? I don't know."
 Step One: Get back to golf. Before teeing off in Germany, every player received a lunch pail. It's OK to paint your nails red, white and blue – but do it once before stepping on that plane.
 Then within that framework, Inkster could build a team in the truer sense. She adopted the "pod" system used by Paul Azinger to win the 2008 Ryder Cup and later by Davis Love III at Medinah and Hazeltine.
 Gerina Piller likened it to her days as an all-state volleyball player in Texas.
 "I know once I stepped on the court with any of the girls on my team," Piller recalled, "whether I would be caught dead with them in public or not – I knew if we had the same jersey on, I had their back and they had mine.
 "And I think that's what our team has done the last two years. They've really gotten it."
 And in the process, the enjoyment – and confidence – has come back.
 "I know their personalities. I know they're fun. I know they enjoy having fun," Inkster said. "And it was my job to bring fun back to the Solheim Cup. Whether we win or lose, you know what? It doesn't matter. It's the memories you create."
 On this particular weekend, the memories will endure far beyond the U.S. team room in Iowa.